how to save $500 traveling from panama city to san jose costa rica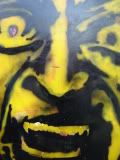 9:50 pm – alex and i wait at albrook station for the panaline bus to san jose costa rica. it feels like we've wandered into a colony of leaf-cutter ants. everyone's carrying something, even the nuns have backpacks. brown-skinned natives dart past. buses groan under the weight of so many people making the pilgrimage to the interior for semana santa.
holy week's huge in central america. across the lobby several young nuns cluster under a sign that reads "favor no gritar" (please don't scream). but for me the screams will come later, after i've spent 15 hours wedged in a too-small seat on panaline's rolling refrigerator of doom.
2 am – somewhere in veraguas our bus stops at a funky plaza to give the passengers a 15 minute break. in the bathroom the urine smell's so strong i can barely hang in long enough to finish. outside, the cafeteria's packed. i count 8 buses in the lot.
i try to regain feeling and circulation in my legs. but i only have time to purchase an oreja (ear shaped pastry) from an old man with a wooden cart before my bus powers up. i run. i can see alex inside waving and telling the driver to hold up.
the nuns up front give me a glare as i stumble on board. apparently, no one's told them i'm an agnostic. i show alex my prize, an oreja the size of an elephant's ear. well worth the risk of eternal damnation.
5:30 am – we arrived at the costa rican border. alex is groggy. she's petite and curls up in the seat to sleep. i'm tall, my legs too long. i've been awake all night, fearing a painful thrombosis. any sleep i catch comes only in violent spurts.
we disembark and cue up with the other passengers. the trees are alive with tropical birds. natives appear; uniformed school children shuffle to school, guaymi indian women in bright green, red, and black mumus (nahua) pass. the guaymi are also known as the ngbe-bugle indians. they're from the comarca ngbe-bugle, a territory in the chiriqui province.
making the border crossing at paso canoas is like being cast in a romero flick. there's always something burning. always random zombies wandering the filthy streets. feral dogs with oozing sores topple metal trash bins in search of food. in the background, an old junkie urinates on the side of a rusted out tractor trailer truck.
"rolex amigo"
there's even a twitchy geezer with sunken eyes offering us a watch. but paso canoas is probably not the place to invest in a new rolex. it seems everyone's on the make in costa rica. from the moment you cross the border you're a target for beggars, and insistent vendors selling cuban cigars, binoculars, cameras, belts, watches and sunglasses.
it never ends. there's a guy selling colones to the other passengers. when i first came here i'd buy colones from him even though i knew he was getting the best of it. but i've learned that in san jose dollars are good almost anywhere. only in rural areas do you need colones.
across the street, at the cafe brunca, they're offering a traditional tico breakfast of fried cheese, and gallo pinto (aka rice and beans). breakfast for only 1000 colones. that's about $2, cheap, but I've never had the nerve to eat there. the restaurant's under so many layers of dirt its become an archeologist's wet dream.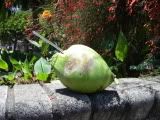 i toss a quarter to a vendor in the street. he hacks open a pipa with his machete and inserts a straw. there's always a long wait on the costa rican side of the border, and it goes much faster with a little agua de pipa to suck down. our passports are stamped, and passengers are herded into a pen to be searched again. in all, it takes about two hours to navigate customs.
7 am – rain begins to fall as we climb the narrow winding road into the mountains. the driver slams the brakes, and sounds the horn every 5 minutes. these roads are dangerous, but costa rica's a beautiful country. clouds loom in the distance. a blue morpho butterfly floats past, and then disappears into the sub tropical forest.
12 pm – the bus picks up a lone tico. he comes down the aisle selling hot empanadas (stuffed corn pastries). i snag a couple of the pollo empanadas. they're some of the best i've ever eaten.
2 pm – san jose costa rica is cool and cloudy. we're greeted by a trio of skinny old panamanians. they play wildly to a crowd lined up for the bus to nicaragua. everyone's getting into the show, clapping and stamping their feet. one of them's good with a banjo, another picks at a bass fashioned from a wooden wash tub, and the other shakes maracas and a tip jar, as he busks the amused crowd.
i'm happy to throw him some cash before the blood clot moves from my leg and lodges fatally in my heart. this is my 4th successful bus trip to costa rica from panama. it's my first time on panaline. in the past i've taken tica bus. but tica drops you in a sketchy part of san jose at 3 am. on the other hand, panaline bus drops you off mid-day, when costa rica's thieves and junkies are still lying unconscious in the urine soaked streets.
people ask why i ride the bus to san jose? why travel with the hoi polli? it's simple, when i take the bus i save about $500, i meet interesting people, and i see more of panama and costa rica. the cost for two round trip bus tickets from panama city to san jose is $100. it costs $600 or more for two people to fly.
what to pack – bottled water, a book, jacket, passport. optional – a small pillow, blanket, and food. all the locals bring food. but there are two breaks where you can get out and pick up something to eat. i never bother with travelers checks. no one wants them. i carry cash, an atm card, and a credit card (instead of carrying the required $500 in cash). you're supposed to have a return ticket when you enter costa rica or panama. but no one's ever asked to see mine.
reasons for going – i like san jose. it's refreshingly cool, has interesting architecture, a good used bookstore, and a great park system. but the main reason i go is to renew my visa. i need to leave the panama every three months. it used to be six months. but this year it's been shortened. when i travel to costa rica i must stay out of the country for at least 72 hours.