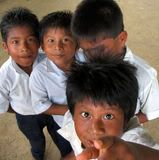 it's not barbecued cuy, but I love the arroz frito over at Manolos. still, i don't like that the staff allows street people to come inside and grift me when i'm eating.
This morning i wave off the usual suspects before a young boy stops in. when it comes to street urchins I'm a soft touch. i can't blame a kid just because his idiot parents have pimped him out.
i ask if he's hungry, and buy him lunch. but an hour later he's out on veneto busking for change. some things never seem to change. every year panama has a telethon to help kids. every year i see malnourished children in the street.
the Chileans have a telethon to help children as well. this year, Chile's most famous prostitute, an angel named Maria Carolina, has made an unusual pledge.
"I will work during the time that the program lasts in order to earn money for the children of the Teletón, and then deposit it in the bank. They will be my own 27 hours of love."
a novel idea. screwing for kids. usually they just get screwed. while many Latinos are fine with cheating, spousal abuse, gambling, and heavy drinking, most would balk at dropping their pants for charity.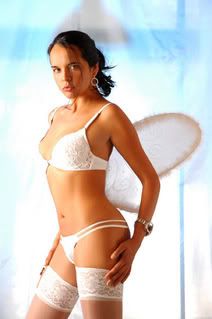 it's a catholic thing. there's something immoral about sex without love. i guess that's why Maria says she's offering love to her clients. calling it "sexo para los ninos" might offend some folks.
Maria's hot, but not cheap. she charges $290, OR 150,000 pesos, for 90 minutes of divine pleasure. sorry kids. i need only 4 minutes to come off. i think that means my prorated donation will be around $13.
Chilean johns are saying Maria's contribution to the children of Chile could be as much as $4000. bravo maria. and good for Chile. but what of panama? are there any plucky Panamanian prostitutes willing to get naked and help these poor kids out?
On the net – Maria Carolina – santiago times
photo of the nogbe bungle children by dsassso@flicker