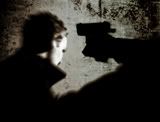 El Cangrejo – I was breaking in a new liver with old man Abuelo when Okke's message arrived.
It was a hot, wet, Panama day, and you couldn't keep your forehead dry with a sea sponge.
"Let's get together and talk. 3pm, the Del Prado." the message read.
Cryptic bastard. So you've come up for air. Back in the day, Okke Ornstein was the shit-throwing journalist over at Noriegaville News. His dyspeptic daily sent me good traffic. But then something happened and he dropped out of sight.
I looked at the clock. Almost 3pm. The cubes made a satisfying sound as I emptied my glass. At the gate I ran through my mental check list: money? -check. passport? -check. notebook? -check. stun gun? – check.
The Del Prado is on a busy corner off via Argentina. A quick scan of the patio reveals a couple of off duty hookers, holiday shoppers grabbing a late lunch, several translucent gringos, but no Okke. I go inside and take a seat at the counter.
I gaze out the dirty bay window. Part of me feels like a wife waiting for her felon husband to appear on the other side of the glass. Christ, I hope Okke isn't expecting this to get all conjugal.
A fat native in a grease-stained guayabera and turned-up sombrero feeds sandwiches into a grill. He looks like he'd lost one too many fights. His front teeth are missing and one eye seems to be drifting off to the left.
Must be part Mexican. I watch his hairy bronze hands cut sandwiches. It's hot work. Melted cheese oozes onto his fingers. I hear him grunt. He catches me looking, and smiles like we're old friends.
"Que tu quieres," he asks.
I almost order the cubano. But sweat's dripping from his brow onto the bread below. I decide its safer to drink my lunch.
"Una fria senor," I say.
The beer comes in a frosted glass, which is unusual for Panama. The day's still hot, so I order another. Then my second beer quickly turns into four. Two dark-skinned girls eye me from across the room. I'm damn near irresistible when I'm drinking. But I begin to worry I may be drinking too much. Last thing I need now is to lose control.
I suddenly feel paranoid. I can almost smell the danger. Or maybe it's the cook. Reflexively, I check my holster, making sure my laser sighted taser is powered up. Fuck it, I'm not taking any chances with this bastard. I move the dial from "stun," to "journalist."
They say a stun gun's not the weapon for hard-boiled writers, that stun guns are for the weak, and only battered women, and old men are unashamed to carry them. No doubt that's true. I should probably just do like the locals and carry a machete.
I take note of the bulla in the Del Prado. Is this a diversion? It's almost Christmas, Saturday, and loud. I can smell burnt toast, beer, and stripper perfume. Perfect cover for the sound of electricity discharging, and the smell of Okke's burning flesh.
But where is he? Does he know I'm on to him? After all, this is not the first time someone's stalked him with a taser. And it probably won't be the last.
Or has the Guardia finally hauled him off to La Joya where he belongs. I order another beverage to celebrate the thought. And then it hits me. This could be a clever ruse to draw me out. For all I know it is Okke who has suckered me. He could be outside watching, waiting to catch me pant-less in some alley with my favorite donkey.
Ambush journalism, that's how Okke Ornstein likes to roll. And he doesn't care how many innocent donkeys get hurt in the process. I check the watch of the man across the counter: 4:05. I take another cold hit off my Panamanian lager. All I get is the bitter feeling that Okke's stood me up.
I don't know if I should feel anger or relief. How's he going to explain this? Probably some lame story about forgetting and not having Internet access. I empty the green bottle into my glass. foam drizzles down the frosted sides.
"Otra cerveza mi amigo," I drawl to the Mexican boxer.
My head's reeling. And it's getting so I can't tell friend from foe. Time to go. I ask "manos de derretido" for the check. He chops a sandwich into quarters, buries it in fries, and signals the cashier with an impressive flourish.
Outside the street's full of holiday shoppers. I can hear Christmas music from over on Via Espania. Okke could be hiding anywhere, or be anyone. Suddenly, I feel naked, helpless, and alone. What am I doing here? I'm so exposed. How did I let myself get lured out into the open like this? Rule #1 for Panama writers: stay the fuck underground.
I imagine this is just how Don Winner felt outside Okke's house that fateful day. Afraid, confused, impotent. But I can't blame Don for being a pussy. Any more than I blame Okke for standing me up. After today I can see the truth of it. They're both trouble.
And trouble is my business.
-Cojito @ Panama After Dark.
Sex Personals • Fetish Personals • Vanilla Dating • Live Cam Action