Lord knows, Maribel Ortiz has never asked much of this world. Yet here she is, back in La Chorrera, back where it all started. It's all so dirty, so low, so final. So many gringos have passed through her bed. So many promises.
Every morning Mari leaves the room she shares with her sisters, takes a cold shower, makes her mom breakfast, then looks out the window to see what she will need to wear. Today the skies are dark, and fat drops are flying into rusty metal buildings, turning the street outside into a milkshake of mud and water.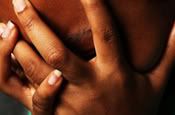 Inside, Mari's eyes are wet with tears. Her sisters say Mari has been crying a lot lately. Ever since she's come back to her past life. Ever since her boyfriend "abandoned" her.
Mornings are the worst. These are the moments when La Chorrera, a forgettable little city on the other side of the Panama Canal, feels like it could be the end of the line.
"If this is what Dios wants for me, then … "
She buries her smooth dark face in her hands, her voice becomes a whisper. People don't believe Mari when she tells them she's over 40 and never married. She's still beautiful, and this morning she's wearing new Reeboks, jeans and a tight black top, gifts from a lover.
"I ashamed to be alone," she says.
Mari's not alone. Her youngest sister is frying plantains on a hotplate in the kitchen. Another sister is pulling a shift in the bakery department of a nearby supermarket. Together the sisters spend all their days cooking, cleaning, working and fussing over their 76 yr old mother, a diabetic, who is slowly going blind.
The girls adore their mother. Just last week Mari depleted her savings to pay for her mother's laser surgery. Now she's broke and wondering how she will pay for food. In a sense the girls have been taking care of their mother since their father left. At the time Mari was 14, the oldest, and it fell on her to manage the household and look for work.
In or out of the home, Mari has always worked. And there was always a price to pay: long hours, verbal abuse, slave wages, bosses who expected sexual favors. One night she was robbed at knife point. Another night she was raped. Still, life seemed manageable back then. She was young, beautiful and she still had hope.
"When I young, I dancing in disco and club. Many men want me and I love fucking. But I no want to be like my mother. I careful. Now I 40. I have no man, no kids, and I think, who take care of me when I old?"
Mari leans across the table and wipes food from her mother's chin. Mari loves children. And even though she already raised her sisters she worries that she'll never have a little girl of her own. For a time she thought she'd marry the handsome Sargent she met while working 60 hours a week in the old canal zone.
"We would fuck all night. In his barracks, in hotels. I never have sex like that before. So many orgasms. But then all American servicemen have to go. I lose my job. I lose my man. He write he want to marry. But he family no want him to marry a poor girl like me. I think no one want poor girl like me."
That could be the self-loathing and depression talking. Two of her sisters have married gringos in the U.S. And until recently Mari lived with her gringo boyfriend in Panama City. A man she calls her "unico hombre." By all accounts they were happy. They lived together for several years. Then the stock market and her world came crashing down.
"The economy is bad there. He lose money, and no can live in Panama anymore." She says.
An economic downturn in the north means fewer tourists and expats, less money being sent to family or girlfriends in Central America. Money sent from the U.S. is an important part of the local economy.
If America was really the open, free society it pretended to be, Mari could simply get a tourist visa and visit. But due to strict visa rules she can't join her boyfriend in the U.S. These days everyone in the third world is a suspected terrorist or potential welfare mom.
"I can come to U.S only if we marry. My lover, he divorced. He no want to marry again. So I here. He is there."
She has no shortage of local suitors. You can find handsome men all over La Chorrera. But Mari and her sisters don't trust Panamanian men. They have their reasons.
"Panamanian men no sirve," She says.
Even with ample evidence to the contrary, Mari and her sisters believe gringos are kinder, and more likely to do the right thing. Until recently they kept their hopes alive by writing men on Adult Friend Finder, a website catering to adults looking for sex.
"No only sex. I make friends on Adult Friend Finder. Sometimes they want guide. Sometimes they want girlfriend and lover. On other sites men no write back."
She keeps a thick stack of yellowed emails in her dresser. She yanks them out like rotted teeth, then drops them on the table. For Mari hope is fading. Thanks to a new law Adult Friend Finder, and anything rated "Adult," is blocked from the poor. Now only the wealthy are uncensored in Panama.
"I like men on Adult Friend Finder. They help me, they fun, they treat me with respect. Now I no even have that.
Mari gets up and checks the window. The rain has stopped. The neighbor's skeletal dogs are barking in the muddy street.
"There is nothing for me here," she says.