"Everyone always wanted a piece of Cojito," says longtime girlfriend Alex Diaz.
One gringo wanted Cojito's collection of soiled stripper panties. Another man just wanted Cojito to start writing again.
A half-empty bottle of Abuelo, an unopened box of extra large small condoms, and a lid of Torrijos brand hydro, purchased just before the big bust over on Calle Uruguay, were among the items auctioned off yesterday by Alex Diaz, from her hut atop a muddy hill in Arraiján.
Cojito and Alex lived together from 2004-2008. During that time Cojito wrote for Panama After Dark. In his free time he taught underprivileged natives the value of irony. Most of the items sold were from the apartment the couple shared in El Cangrejo.
Even though he's impossibly lazy, and doesn't speak a word of English, Christino, Cojito's faithful manservant, fetched the highest price. Christino was often found outside Cojito's building, flirting with the ladies of the first floor beauty parlor, and encouraging the neighborhood dogs to crap on the grass.
A rare and still unpublished manuscript was sold off as well. Authored during Cojito's early years in Costa Rica and entitled "Secrets of the Big Dick." It's cover carries the warning: "Caution, may cause bloody stigmata in Ticos."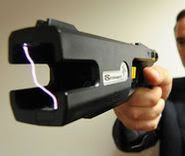 A man calling himself Don Winner said he already had his souvenir: Cojito's still fully-charged stun gun. Winner says that while he never met Cojito, he still wishes he could have bought him that drink.
Winner came to the auction to see if there might be a photo of Cojito holding the stun gun. And indeed there was, a framed black and white snapshot of Cojtio crouched over an unconscious Colombian stripper.
The Arraiján auction attracted fans, pseudo-journalists, angry ex-lovers, curious cholos, and agents of the DEA and IRS. But it was not only the Cojito name that drew a crowd estimated to be in the tens. His girlfriend, Alex Diaz, gained fame as a Panama escort in the late 90's and garnered Fodors "Best Bang For Your Buck" three years running.
Tim Johnson, one of Alex's regulars remembers: "She was always hands on, and until her pipes gave out, she sucked as hard as Cojito."